The Real Training Weekend
Friday, June 14th to Sunday, June 16th, 2019
Whistler, BC, Home of Ironman Canada and Ironman Canada 70.3
Register HERE
For many years Brite Coaching has always lead weekend training camps with a theme and focus such that athletes leave with much more than "more training". Rather, they leave with a sense of empowerment, knowledge, perspective and a global view of what components are involved in preparing for endurance events such as half or full distance Ironman events. Themes we have focused on are "execution of long distance racing", "free speed and aerodynamics" and "nutrition/hydration". Over the years, we invited experts from their respective field to share their knowledge with the athletes and hopefully another resource to tap into along the journey.
This year, however, we have decide to scale back to the rawness of old school training and focus on solid interval sessions across the swim, bike and run. Each session will be crafted based on a few key considerations:
fitness levels of the athletes attending the weekend of training (while everyone is welcome, everyone must come with the same intention and attitude to train well.

goals of each individual athlete

structured & coached interval sessions

a joint over arching desire to create success in each workout

developing productive fatigue from intentional overloads

exploring Whistler through rides, hiking, running, swimming and dining out
Pre-Requisites
This program is for far more than athletes preparing for Ironman Canada or the 70.3. This program is open to all endurance multi-sport athletes seeking top-notch training sessions, one on one time with coaches, a healthy competitive environment, social time with other athletes and a chance to explore Whistler. Pre-requisites for this weekend are simple: a willingness to hit some high notes in training and get a little vulnerable with your limitations.
Athlete Targets
Prior to beginning the weekend, the coach will assess each athlete and assign a range of zones and pace targets for the weekend. We will use micro-goals and segmentation to break down the work sets. We will use "just manageable" challenges to bring out the performance in each athlete. This approach to a quick 3-day program will be true training that seeks a physiological response. Anyone can go long & easy but not everyone can go strong for long over and over again.
Coaching
If you want to get in some great training sessions with others under the supervision and guidance of Coaches Christine Fletcher and Britni Bakk, we welcome you to join us. Between these two coaches, you will tap into experience that is nearly unmatched with over 200 multi-sport events and 80 Ironman (20 of which were in Kona). Our combined knowledge of training methodology and performance execution will be there to share with you. You'll walk away feeling productively and constructively fatigued. After a few easy days and good nourishment, you'll be stronger, fitter and faster.
Training Schedule
Thursday, June 13th
Casual dinner at Hunter Gatherer, Whistler, BC
Starts at 6:00-9:00 p.m. – athletes are invited to join as they arrive into Whistler.
Friday, June 14th
MORNING SESSION
Pool Swim at Meadow Park Community Center
Technical yet sustained pacing swim for 2-3km. Please bring paddles and fins. Kickboard and Pull Buoy are provided. Main Set will focus on 100 and 200's. Not all out but sustained pacing.
Swim begins at 8:45 a.m. Three lanes will be reserved for Brite Coaching.
AFTERNOON SESSION
Endurance Strength Ride - towards Birken & Lake Anderson.
Meet at Transition 2 (for the Ironman) in Whistler Village P3 (can drive or ride there)
Departs at roughly 11:30 a.m. (based on what time we finish swimming)
Athletes will split between 3-4 groups of riders for this 80-110km ride. Focus is endurance strength. This route does not follow the Ironman Canada route but rather takes us towards a quiet location with undulating roads and the long climb back from Pemberton. Great for training!
Training Segments to Lap:
Pemberton to Mount Currie – Tempo Power (Zone 3)

Mount Currie to Pemberton - Tempo Power (Zone 3)

3 Climbs from Pemberton to Whistler – Threshold (Zone 3/4)
Casual dinner at Brewhouse, Whistler, BC
Starts at 5:30-8:00 p.m. – athletes are invited to join as they are freshened up from the day!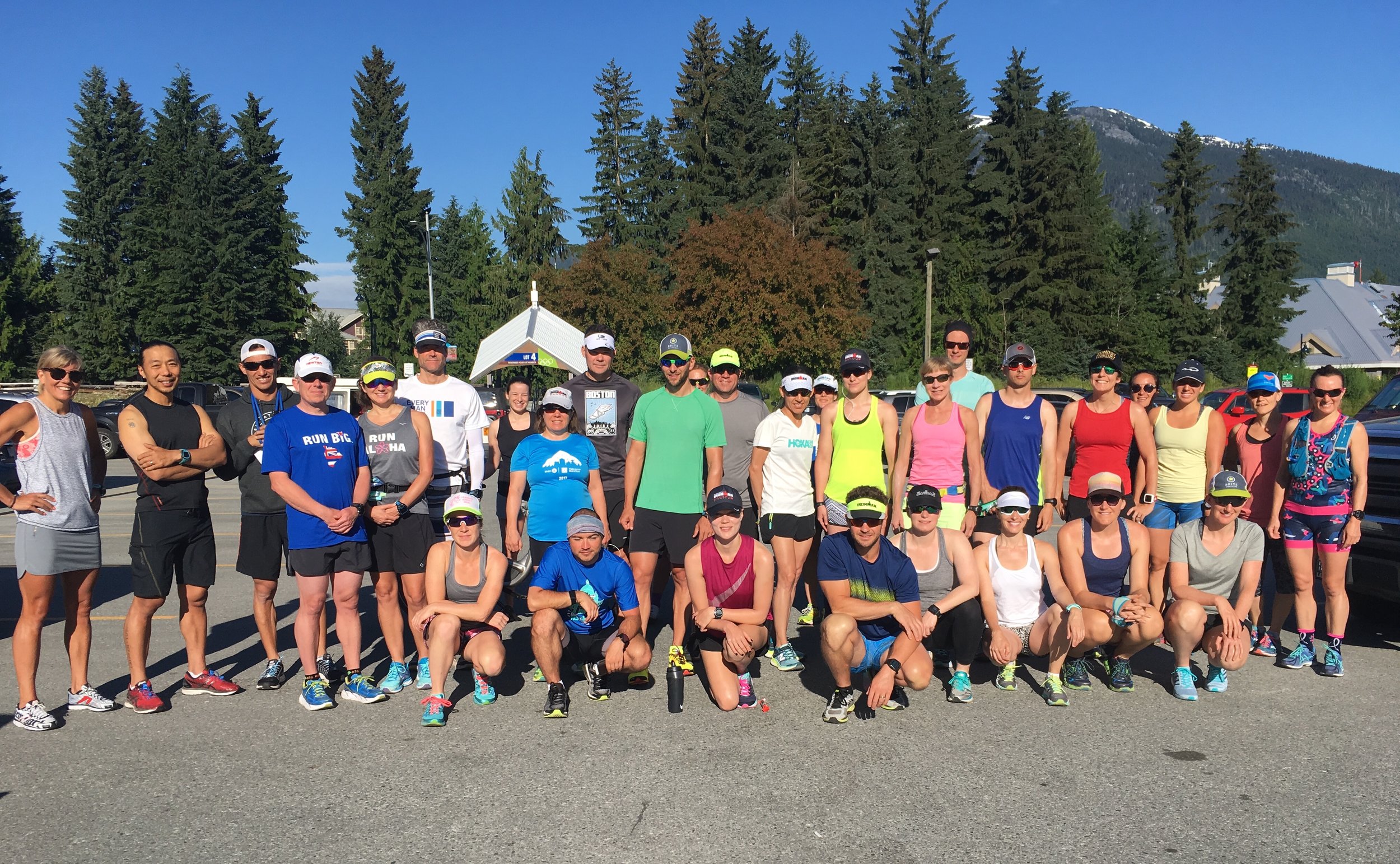 Saturday, June 15th
Descending Efforts Ride on Callaghan Road.
Meet in Parking Lot near Spruce Grove Community Center.
Departs at 8:30 a.m.
Athletes will do a super fun yet structured session using the road from the S2S highway up to Callaghan bi-athlon center. Each lap will take approximately 30-40minutes.
Training Segments to Lap:
First time up Callaghan Road – Tempo Power (Zone 3)

Recovery is back down

Second time up Callaghan Road – goal is to drop 1-4 mins on your time.
The ride will be approximately 90-120km. Athletes looking for a shorter ride can head back after the workout, athletes looking for a longer ride add distance towards Squamish or Pemberton. If the work was done properly, athletes should not feel like they need too much more riding volume on this day.
Depending on the weather, we will offer the athletes the chance to head out for a fairly arduous 2hour hike heading up the mountain. We are seeking a fairly steep climb to work strength and endurance yet using a low impact activity to do so. This is not intended to be a jaunt but rather a solid strength hike.
Meeting location will be determined. Fuel and hydration is a must.
Departs at 1:30 p.m.
Casual dinner at Hunter Gatherer, Whistler, BC
Starts at 5:30-8:00 p.m. – athletes are invited to join as they are freshened up from the day!
Sunday, June 16th
Athletes will start the day with a pool swim at Meadow Park for an endurance and strength based swim session. Total distance will be 3-4km swimming. The reason we are using the pool over the lake is for the training benefits from intensity and structured intervals.
Meet at Meadow Park Community Centre at 7:30 a.m.
After the swim, athletes will change into run gear and finish the weekend with a threshold tempo combination run from Meadow Park. Run time will be approximately 90 minutes. Intervals will be along the IMC Run course between Riverside Campground and Nicholas North Golf Club. Please bring post swim fuel to support a good run.
Run departs after the swim.
After our morning training, we will invite athletes to meet at Green Moustache Café (location in Marketplace) for a final rendez-vous and re-fuel with wholesome nourishing fuel.
Camp Deliverables & Athlete Expectations:
The main deliverable for this program is the guided and coached training sessions and apply the execution of each to you, the athlete.

Understanding interval training and how to manage efforts.

One on one consultations with coaches to determine your personalized targets and how these will apply to your racing goals.

Training (really training) in the company of others, always brings out the best in ourselves. When supported, encouraged and surrounded by peers, we seek better. Come seek your better…

All bike rides will have SAG support care of Sean Tan's Bike Tech. Since Bike Tech is BC's top mobile bike mechanic, he will also service your bike if any issues arise over the weekend. After this weekend, he will be your mechanic for life.

Some fuelling products and hydration will be offered however we always encourage athletes to bring the products they are used to using and training with. Water will always be available.

For those racing IMC, you will get to leave some blood on the course.

Entries into Meadow Park Community Centre.

Note: if you plan to join us for dinners on Friday and Saturday, we will try to group the bill and manage the logistics. TBC.
Accommodations:
Athletes are responsible for their own accommodations. Over the years we have negotiated rates at various hotels and every year, everyone seems to find accommodations through friends and family. If you need help, please let us know and we will direct you to our recommendations.
Camp Fee:
$400pp + GST
Registration Link is here